Nettles Farm Owner, Riley Starks
Nettles Farm is a small family-owned farm on Lummi Island. It was established in 1992 on land cleared by owner Riley Starks, who still lives there and operates a small B&B. As well as managing the farm, Riley is a partner in Lummi Island Wild, a venture that sells Reefnet caught salmon and other Salish Sea products. He is also the Executive Director of Salishcenter.org, a 501c(3) non-profit that seeks to elevate sustainable fisheries in the Salish Sea.
We're proud of Nettles Farm's unique approach, over the past (nearly) 3 decades, of offering farm to table foods to the Bellingham Farmer's Market (1993-1999), the Lummi Island Farmer's Market (1995-2005), and the Willows Inn and the Taproot Cafe (2001-2013). We are committed to providing excellent, flavorful, fresh foods for enjoyable, healthful eating.
We grow our food organically and we were certified organic for 10 years. Even though we are no longer certified organic, our farming methods have stayed the same. Our commitment is always to high quality, healthy, fresh food with real flavor. Though our offerings are now limited to raspberries, blackberries, table grapes, black, red, and white currants, gooseberries, tomatoes, and eggs, we strive to supply our guests with an alternatives to the poor quality produced by our factory-based agriculture system.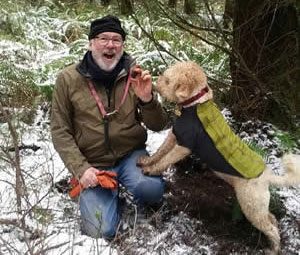 Stella the Truffle Hunter is pictured with me here. Stella was born July 18, 2014, in Sequim, WA. She is one of the rare breed called Lagotto Romagnolo, known to have been trained to hunt truffles in Italy since at least 1540. She is hypo-allergenic and is the oldest of all water dogs. The poodle and Portugese Water Dog are derived from her stock. She has a sweet temperament, the most sensitive nose of any canine, and really doesn't have any negative attributes that I can find. We are in love! She and I are learning to find the hundreds and thousands of truffles that grow right here on Nettles Farm. Who knew??! At left, Stella finds her very first truffle!
A nice summary of our relationship to Patagonia can be seen in this video.