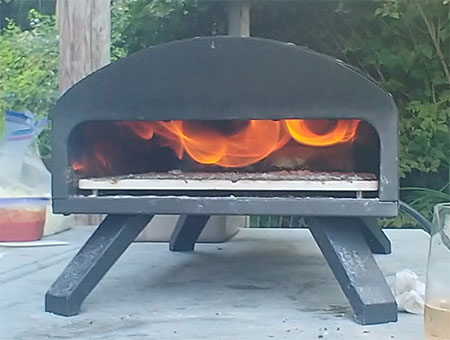 We now have a pizza oven in both of our suites, the Bertello oven (left), and the Woodstone oven (above).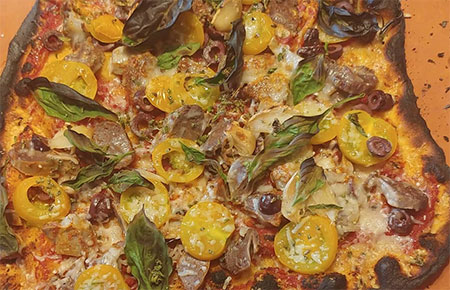 This is our famous chicken gizzard pizza… Tastes delicious!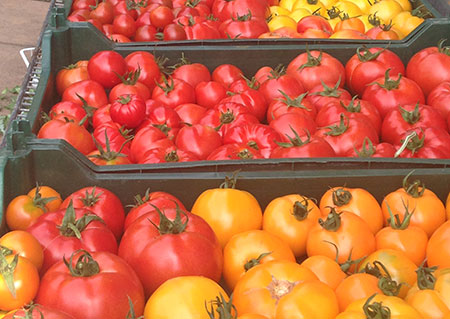 Make your pizzas with Nettles Farm farm-fresh vegetables and herbs.
Now Both Suites have a Pizza Oven, and we're offering Pizza Dough classes every Sunday!
We take pizza seriously at Nettles Farm. The FarmHouse Suite has a WoodStone pizza oven with a 30″ x 30″ deck; and the FarmHouse has a Bertello portable pizza oven with a 12″ x 12″ deck. Both make seriously good pizzas… so good that you should plan for a pizza night while you stay here. To that end, we are teaching pizza dough classes every Sunday. We are using organic fine milled old world blend flour from Central Milling, which blends farro and other ancient grains with hard red wheat.
The class begins at 10 am, and culminates in the production of 5 pizza rounds, ready to bake either Sunday night, or later in the week. Eventually, as the tomatoes ripen this summer, we will put together pizza packages, consisting of sauce, basil, tomatoes, and fresh mozzerella for you to purchase as needed. One ingredient you may be surprised to see is Chicken Gizzards—they are amazing on pizza. Try them!