Our History with Beekeeping
I've kept bees off and on for many years, but each time it has ended in dismal failure. The first time, in the 90's, a very hard winter killed the hive after 2 years. After that I caught 2 swarms from a cedar tree at the Willows Inn, but apparently the queen was not with them, so they died after a short time. Then, a few years later, when I again had the will and the energy to get some new bees, they lasted for 2 years until a strong February storm blew the hive over, exposing the bees to heavy rain and destruction. I put it back together, 60 lbs of honey and all, not wanting to deal with it. Late July I noticed bee activity again, and found that a swarm had inhabited the hive! Those bees were very hardy, and made it 3 years, until a very rainy early spring did them in.
For the Love of Bees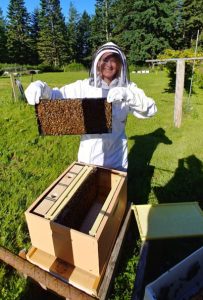 I have not had the heart to start over again, it is devastating to lose a hive. I feel I have failed the bees. But the draw to try again is also strong, it is such a satisfying feeling to hear the deep buzz in winter, and to see them dance when the sun comes out again in spring. So, this year, when young Hannah Miner insisted that we get more bees, I agreed. She is excited to make the hives active again because she is to be married on the farm in August, and doesn't want to see empty hives near the wedding arbor!
I love bees, but have had trouble keeping up with upkeep of the hives, requiring deep dives into the hive to check on the queen, etc, etc. This year will be different, though! Yes, I will make the effort, encouraged by Hannah who promises to come out occasionally to check on them. We will have 2 hives, sourced from Ferndale beekeeper, Tamila Morgan, who breeds her own bees. Her bees are conditioned to Whatcom County over generations. The next hive will come this week! Stay tuned…