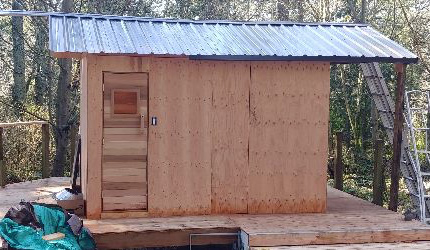 Sometimes things take a little longer than we think! A little siding and the woodstove installation, and it will be ready to heat… Meanwhile…
COVID-19 has had a major effect on all of us.
The sudden halt to our economy has had an instant and dramatic effect on on Nettles Farm. My income depends on visitors planning trips, making reservations and sending deposits, all of which have come to a screeching halt. None of us knows when travel will resume some version of normalcy, but we know that it will. I am urging each of you to consider booking a visit with us for the coming summer. None of my income sources are covered by any economic relief being sent to us from Washington. YOU are the engine that drives this bus, and I am asking those that are able to do what you can. I appreciate your help.
I have set up a GoFundMe page for those who don't want to commit to a stay. Any funds will be counted as a deposit for a stay in the future.
Go Fund Me will match your donation up to $500